Are you eager to know what is IPTV? In this blog, we will take a closer look at what is IPTV, what is IPTV box, how it works & its architecture, the best IPTV devices, the types of IPTV services, the future of IPTV solutions, and everything else you need to know about IPTV!
When we talk about online streaming, there are many terms we come across, IPTV being one of them. We are experiencing a paradigm shift from traditional modes of broadcasting like cable or satellite TV towards internet-based streaming and, IPTV as a system has a major role to play in this transitional phase.
In our years of experience with online streaming, most of us have observed one common consumer behavior trend. Consumers, nowadays, essentially don't care much about owning the content as much as they care about accessing content. This is where IPTV Services comes into the picture. Using the devices that work with IPTV, content consumers can stream any video content directly from the internet, without any need for cable or satellite TV subscriptions.
Let's take a closer look at the workflow of IPTV devices and IPTV services in this blog.
What is IPTV?
IPTV refers to Internet-based Protocol Television where the Internet is used to deliver TV programs & Videos that are either live or on demand. So, in simple terms, we can say that IPTV is a system where digital television service is delivered to the subscriber through Internet protocol technology. You watch your TV shows via the Internet.
So, is it the same as video streaming apps like Netflix? No, there is a slight difference.
IPTV is slightly different from digital video that is accessed by millions of users on sites or apps like YouTube or Netflix because it lets you watch live TV shows on different channels. So, it is not limited to one particular platform.
But it has similarities too. It shares quite a bit of the same ubiquitous, pervasive nature. Also unlike standard cable or satellite connection, in IPTV multiple TV sets can use a single subscription within a home.
Also, it has many advantages over traditional TV. Like, an IPTV subscription gives the viewers the added advantage and convenience of being able to pick the program they want to watch whenever and wherever they feel like watching it. So, apart from tuning into any Live TV shows that are being aired currently, they can even watch the content that has been aired previously.
How is IPTV different from Traditional TV?
To understand how IPTV is different from traditional TV, let's compare the traditional mode of viewing TV with IPTV –
IPTV vs Traditional TV
Traditional TV (Cable and Satellite TV)
IPTV
Cable and satellite both function by enabling users to "tune in" to specific channels within that signal and the fundamental difference is that cable is via a wired connection whereas satellite is wireless (until it reaches your house, anyway).
IPTV system uses an Internet protocol (IP) based network to deliver TV channels to users' set-top boxes. Internet networks differ from cable and satellite by offering content through the same client-server model that renders email, websites, and other Internet-based services.
A prime example of Cable TV is Time Warner Cable which is delivered via coaxial cable connection and an example of Satellite TV is from providers like DirecTV which is transmitted and delivered to the viewers via radio waves.
As we will see mentioned further in this blog, IP or Internet Protocol is the language that is used for transferring data packets between computers attached to the internet network. And, in IPTV, the consumer requests and receives TV Shows, and Video content is delivered to the viewer via Internet Protocol (IP) based networks instead of cable or satellite.
Cable or satellite where content is broadcast in real-time, on a transmit-and-forget model.
The IPTV server has the ability to store the programming on servers at the transmitting end, allowing users to request the content over the Internet at any time.
How Does IPTV Work?
IPTV is much more similar to browsing the internet than traditional channel surfing. It merely uses IP (Internet Protocol), a transport protocol that is a delivery mechanism to deliver the videos to the viewer. When the viewer clicks on any TV program or requests the video, video from different sources (servers) is divided into data packets and sent over the internet. Video servers transmit programs through fiber-optic cable to existing households via an internet connection and requests are sent out and shows are sent back.
Let's take a look at the IPTV architecture to better understand how IPTV works.
IPTV Architecture
Depending on the network architecture of the service provider, there are two main types of IPTV architecture that can be considered for IPTV deployment: centralized and distributed.
The centralized architecture model is a relatively simple and easy-to-manage solution. Because all media content is stored on centralized servers, it does not require a comprehensive content distribution system. Centralized architecture is generally good for a network that provides relatively small VOD service deployment, has an adequate core and edge bandwidth, and has an efficient content delivery network (CDN).
Distributed architecture is just as scalable as the centralized model, however, it has bandwidth usage advantages and inherent system management features that are essential for managing a larger server network. Operators who plan to deploy a relatively large system should, therefore, consider implementing a distributed architecture model right from the start. Distributed architecture requires intelligent and sophisticated content distribution technologies to augment the effective delivery of multimedia content over the service provider's network.
Architecture Diagram of a Typical IPTV Network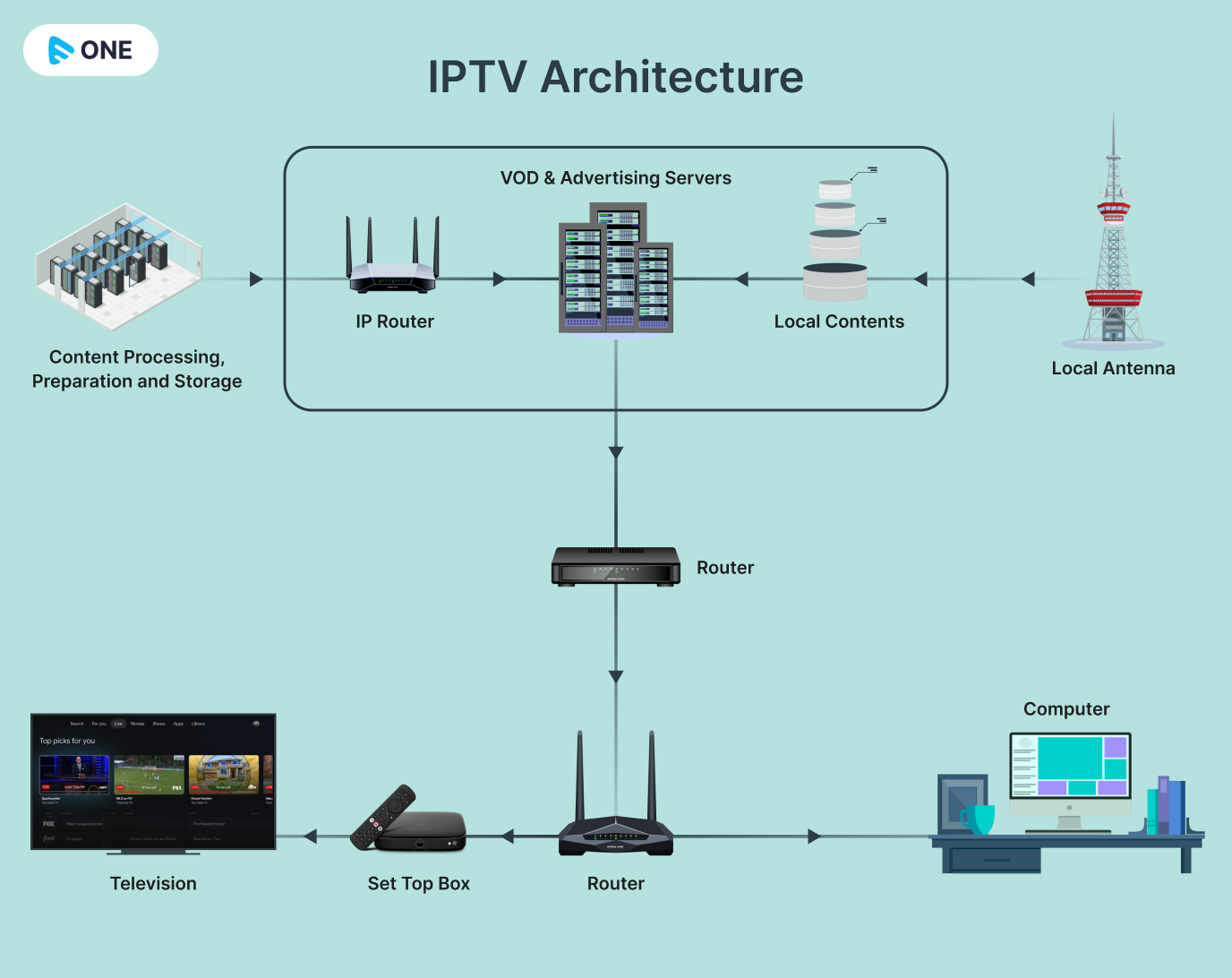 Broadcast content from Satellites and Local Antennas is received by the central unit. The central unit is where live TV channels and AV sources are encoded, encrypted, and delivered in the form of IP multicast streams. The Central unit will also contain the Advertising Servers, Live TV Streaming Servers, Video on Demand (VOD) servers & platform, and is where on-demand video assets are stored and served as IP unicast streams when a user makes a request. The VOD platform may sometimes be located with and considered part of, the IPTV's central unit.
The requested videos and TV Channels are delivered to the viewer via the delivery network which consists of a robust internet uplink via Fiber Optics from the IPTV broadcaster's end.
The viewer will receive this signal at their end via their local or preferred internet service provider which can vary from a range of options like broadband, fiber optics, DSL, etc..
How Does IPTV Work From the Viewer's End?
When the viewer subscribes to a particular IPTV service they are provided with the service's specific Set Top Box (STB). A set-top box is a piece of endpoint equipment that decodes and decrypts TV and VOD streams for display on the TV screen. This STB is connected to the viewers' internet connection (router) and uses the internet to deliver the video and TV content to the viewer.
The viewer requests the videos or TV Channels via an interactive portal in the STB, that allows the viewer to navigate within the different IPTV services, such as the VOD catalog.
While this is a typical example of an IPTV architecture model, due to a wide variety of service providers in the market today and the IT options available in the market, each service provider may decide to implement a slightly different architecture that suits their needs, geographic area, endpoint internet connectivity, local market conditions & requirements, and business model.
However, at the core, the principles remain the same and may not be too different from what you see here.
What is an IPTV Box?
An IPTV Box is a type of set-top box that can convert internet protocol signals into a format that can be read and interpreted by your TV. It is important because your TV does not have any built-in system to interpret the signals received via the Internet. Thus, these IPTV Boxes play a crucial role in this process, as they act as a bridge between your TV and the internet.
They connect to your TV through HDMI or AV Cables. In recent years, some IPTV boxes have got the capability to connect over the wifi. So, if you have a smart or connected TV that can connect through wifi, you won't need anything else to connect to your IPTV box.
Now, what if you don't want to buy an IPTV box? You can still use your PC to stream IPTV content. Because PCs are already built to detect and interpret internet signals, you can use them to watch IPTV content, and if you want, you can screencast the content running on your PC to your TV.
Types of IPTV Formats & Services
Apart from transmitting classic TV channels, IPTV has many other formats too, and hence it offers different types of IPTV services. The following interactive services are also provided by IPTV, which are tabulated below.
| | |
| --- | --- |
| Types of IPTV Formats (IPTV Services) | Description |
| Video on Demand | Individual delivery of video content to a subscriber. It allows users to watch any movie from the VoD server's media library. |
| Near Video on Demand | It is a pay-per-view video service intended for multiple users subscribed to the nVoD service. The content broadcasting schedule is compiled beforehand and subscribers can look at the schedule and watch content according to their interest. |
| Time-shifted TV | Time-shifted TV lets subscribers view live broadcasts later so they can playback and resume at their convenience. A rewind option is also provided for TV programs. |
| TV on Demand (TVoD) | Selected TV channels are recorded so they can be viewed whenever convenient. |
| Live Television | With or without interactivity added to currently broadcasted TV shows. |
Best IPTV Service Providers
With time, many good IPTV services have come up, offering some great content. Recently, our in-house team of streaming experts conducted a review of some of the most popular IPTV services. According to them, the best IPTV service provides in 2023 are:
1. Tribe IPTV
2. XTremeHD IPTV
3. Falcon TV IPTV
4. ICEFLASH OTT
5. IPTV Trends
6. KEMO IPTV
7. NIKON IPTV
8. IPTV GANG
You can read about the pros, cons, and pricing of each one of them, in our blog on The Best IPTV Service Providers in 2023.
Devices That Work With IPTV Services
The specific name or type of devices that will work might vary depending on which IPTV service you are using. But, in general, IPTV services are usually compatible with a large number of devices, like:
Android Phones and TVs
MAC PCs, iOS devices, and phones
Samsung Tizen TV
LG WebOS (LG TV and other devices)
Devices and TVs powered by Amazon Fire OS
So, if you use any of these, you can rest assured that 99 out of 100 IPTV services will work with them.
Best IPTV Devices
So, now you must be wondering, which will be the best IPTV Box (or IPTV device) for you, right? In today's scenario, many companies have come up with quality IPTV boxes and devices, so it is really difficult to choose.
We have studied the specs of all the prominent IPTV devices out there in the market, and have come up with the top 5 best IPTV devices, which are tabulated below.
| | | | |
| --- | --- | --- | --- |
| IPTV Device Name | Key Specs | Key Apps | Pricing |
| Roku Express | HDMI streaming device with ARM Cortex A53 CPU, 512MB RAM, 802.11n Wi-Fi | Amazon Prime Video, Netflix, Now TV, Sky Store, BBC iPlayer, ITV Hub, Demand 5, All 4, Plex | $29.99 |
| Manhattan T3 | It is a streaming box with built-in Freeview Play that runs on a Quad-core processor and connects to 802.11n Wi-Fi | BBC iPlayer, ITV Hub, Demand 5, All 4, UKTV Player, YouTube | From £80 (mainly in the UK) |
| Apple TV 4K | It is a tvOS streaming box with Six-core A10X Fusion CPU, 3GB RAM, 32-64GB storage, 802.11ac Wi-Fi | Apple TV, Netflix, BBC iPlayer, ITV Hub, Amazon Prime Video, Now TV, All 4, Plex | $129 |
| Roku Streambar | It is a streaming soundbar with a Quad-core processor, 2GB RAM, 802.11ac Wi-Fi | Amazon Prime Video, Netflix, Now TV, Disney+, Sky Store, BBC iPlayer, ITV Hub, Demand 5, All 4, Google Play Movies & TV, Plex | From $125.55 |
| Amazon Fire TV Stick | It is an HDMI streaming stick with a 1.7GHz quad-core processor, 1GB RAM, 8GB storage, 802.11ac Wi-Fi | Amazon Prime Video, Netflix, BBC iPlayer, Disney Plus, ITV Hub, Demand 5, All 4, Plex | Starting from $29.99 |
What Are The Pros and Cons of IPTV?
Every system has its pros and cons, and IPTV is not an exception. It has a lot of benefits for the users, let's take a look at some of them first.
Pros of IPTV:
IPTV viewers can experience much more flexible TV viewing, as they can pause, rewind, and fast-forward the content at their own will.
As most of the IPTV boxes support HD and 4K streaming, you will get much-improved picture quality, as compared to the traditional TV.
Some of the IPTV boxes offer channels and apps specific to different niches. Hence, you can stream different types of content, and enjoy more content options.
Cons of IPTV:
It requires a high-speed internet connection, so people in remote areas who don't have access to high-speed wifi cannot use it properly.
IPTV can be lagging at times, and can even show outages, due to network issues, device incompatibility, and many other reasons.
In short, IPTV works best in those areas which have good internet connectivity. So, if you have a stable internet and HDMI-enabled TV that can connect to Wifi (if needed), then you should definitely go for it.
Market Size and Future of IPTV
IPTV has been on a continuous growth path in the last few years. The global IPTV market, which stood at US$ 50.9 billion in 2021, is expected to reach US$ 115.2 billion in 2026. Hence, the market size of IPTV will grow at a CAGR of 17.8% during this time.
North America is going to be the largest market for IPTV in the coming years. Asia is also not far behind, with China and India showing tremendous growth in this region.
The growth of IPTV was propelled by many factors like the growth in internet penetration and internet speed across the globe. In certain regions, like China, they were boosted to a large extent. As a result, China itself had around 179.7 IPTV subscribers by the end of 2022. India too had around 68.1 million subscribers by the end of 2022.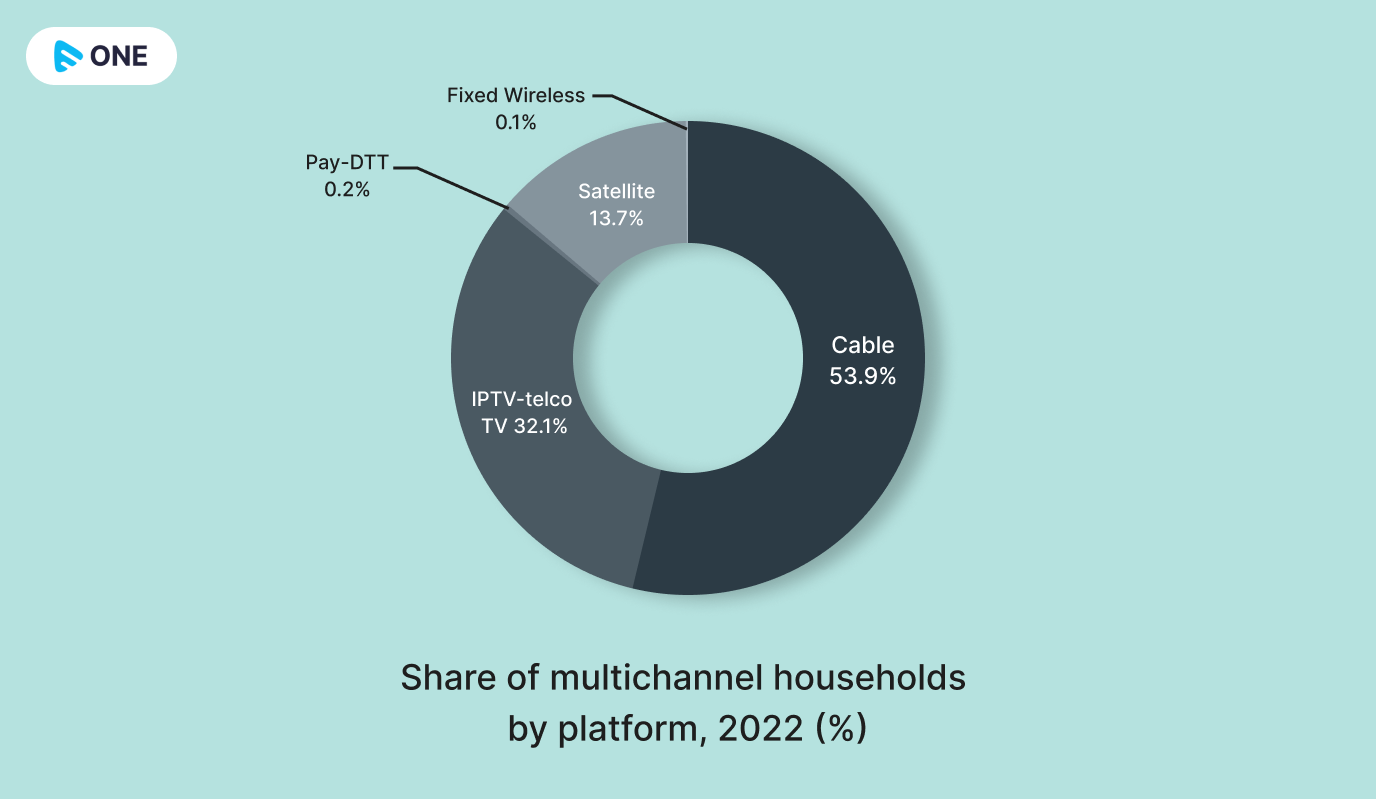 IPTV gains in market share will be largely at the expense of cable, with satellite holding up quite well. Indeed satellite platforms actually gain from IPTV growth as they feed channels to the headends for distribution across the terrestrial fixed broadband infrastructure.
IPTV networks are available in countries including the USA, Russia, Great Britain, Canada, France, Belgium, India, Germany, China, Sweden, and even the Dominican Republic, according to this list of global IPTV providers obtained from Reddit.
Although there are global players providing IPTV service fuelling its growth, we observe a shift in IPTV usage and believe that viewing habits will transition more towards OTT and SVOD as services like Netflix and Hulu as a part of an ongoing trend.
Is IPTV Subscription Legal in the US?
IPTV Subscription, and IPTV service in general, is legal as long as the IPTV service provider has the license to stream the content that it intends to show. We know that every content has a copyright license. And if the IPTV service provider streams the shows without due permission from the copyright owners, then it will be definitely illegal.
However, if you are using an IPTV service, use video streaming platforms like Netflix and Amazon Prime Video and then stream your content through these platforms, then it is completely legal. Because these streaming platforms are the copyright owners of their content. Also, many IPTV service providers do have a license to stream certain content, which is legal too!
Wrapping Up
We hope we have helped you to understand What is IPTV and how it works? And if you are intending to start your own streaming service, then we have got the perfect solution for you!
Muvi One helps you launch your own OTT Streaming service by providing an end-to-end offering that comprises
IT Infrastructure,
CDN,
Online Video Platform,
DRM,
Player,
CMS,
Monetization options,
Payment Gateway integration to front-end interfaces like Websites and Apps for Mobile and TV.
The entire solution is deployable out-of-the-box in one click, and you won't need any IT teams or coding to launch your streaming service! Click here to get started with your own Multi-Screen OTT Service today!
FAQs
Q. What is IPTV and how does it work?
Ans. An IPTV, or Internet Protocol TV lets you access video and audio content from the internet. It is powered by an IPTV Box, which is a special Set-Top Box that can access the internet. So, the IPTV box decodes the data received from the internet and plays it on your TV screen.
Q. What's the difference between IPTV and linear TV?
Ans. A linear TV cannot access content from the internet. But, an IPTV can access content from the internet.
Q. How does IPTV differ from traditional television?
Ans. In traditional television, which basically means satellite television, lets you watch content being broadcasted over satellite TV channels. But an IPTV lets you access content from the internet and stream them on your TV screens.
Q. What are the different types of IPTV services?
Ans. The different types of IPTV services are:
Video on Demand
Near Video on Demand
Time-shifted TV
TV on Demand (TVoD)
Live Television
Q. Is IPTV the Future of TV?
Ans. With the massive growth of IPTV services like Roku Channel, Tubi, and Pluto TV, it is evident that they are going to capture the market of linear TV in the near future. More than 35% of people are already using TVs for streaming online content.
Q. Are IPTV services available in all countries?
Ans. Yes, IPTV services are available in most countries nowadays.
Q. What is the best IPTV?
Ans. Based on our review, the following are the best IPTV service providers:
Tribe IPTV
XTremeHD IPTV
Falcon TV IPTV
ICEFLASH OTT
IPTV Trends
Q. What is an IPTV box?
Ans. An IPTV box is a set-top box that can interpret the internet protocol signals and convert them into a format that is readable by your TV.
Q. Do we need VPN for IPTV?
Ans. Not really. You can connect with an IPTV without any VPN too! However, we do recommend you use a VPN so that you can stream all the local content more securely.
Q. What is an example of IPTV?
Ans. Roku is one of the most popular examples of IPTV providers, especially in the North American region.
Q. What is IPTV GitHub?
Ans. IPTV GitHub is a collection of 8000+ Free Live and publicly available IPTV channels from all across the globe.